The Yarra Valley's historic beginnings are united once more!
Chateau Yering, Yeringberg, & Yarra Yering; What could be more ideal?
2022 shall be a year of great events at Chateau Yering, and coming up soon are two fabulous Winemaker's Dinners, each promising to be tantalising, educational, and memorable!
An exclusive opportunity to dine in the magnificent Eleonore's Restaurant, and experience the brilliant combining of some of the finest cuisine and wines that this beautiful Valley has to offer!
Not just the wonderful food, wine and surroundings, you'll also get to meet the actual winemakers; learn of their history, methods, and the vivid passions that go into producing these World Class wines, expertly complemented by a fine bespoke menu, to literally dance your palate to new heights!
With this amazing dynasty and the equally relevant 1854 homestead that is Chateau Yering, this stately event of the 2022 dinner series shall naturally be right at home in Eleonore's. The menu designed by Eleonore's team for this evening reflects an ode to classic French fare, with a flash of Australian pizzaz!
YERINGBERG
28th April 2022
Guest Winemaker: Sandra de Pury
Yeringberg, undoubtedly one of the most distinguished wine producing properties in the Yarra Valley of Victoria, has been the home of the de Pury family since 1863, back in the earliest days of Victorian winemaking.
The de Pury family tradition of excellence in winemaking and farming is continued today by fourth-generation siblings Sandra and David de Pury. All the family live on the property, with 5 boys of the 5th generation growing up on the farm.
This is your rare opportunity to enjoy the full range of Yeringberg wines, including their 2021 Rose; 2013 Marsanne Roussane; 2018 Chardonnay; 2013 Shiraz; and 2019 and 2012 Yeringberg Cabernet blend.
Four course with canapés on arrival and six matched wines.
$250 per guest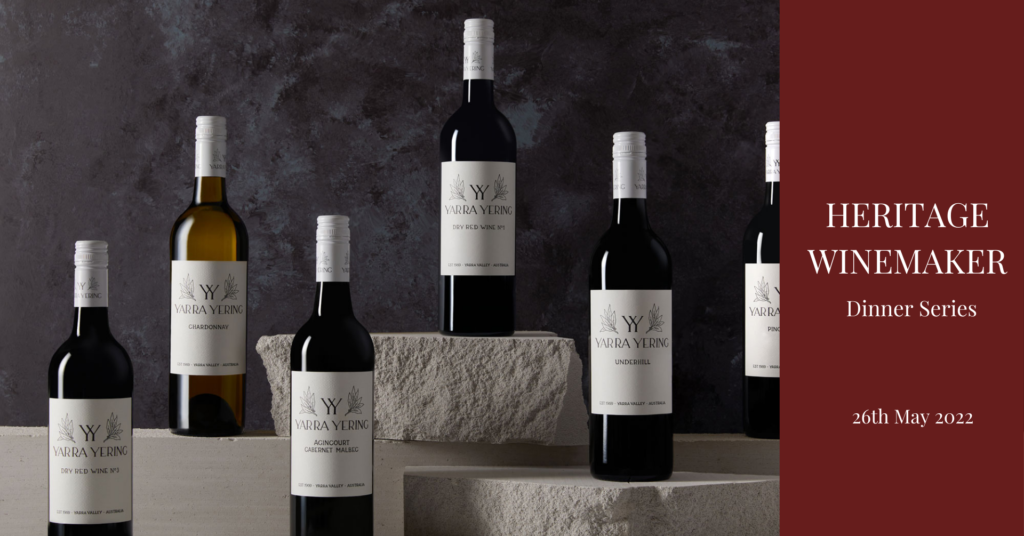 YARRA YERING
26th May 2022
Guest Winemaker: Sarah Crowe
Yarra Yering is one of the oldest and most beautiful vineyards in Victoria's Yarra Valley, located at the foot of the Warramate Hills. Established in 1969 by Dr Bailey Carrodus, Yarra Yering was instrumental in the revival of the modern-day Yarra Valley. The first wines, the 1973 vintage of the now iconic Dry Red Wine No. 1 and Dry Red Wine No. 2 became the first commercial Yarra Valley wines to be produced in 50 years!
A well-earned reputation for wines of quality and individuality stem from an ongoing and thoughtful evolution, the details of which Sarah Crowe will no doubt extol with the magic fervour of a true winemaker!
Four course with canapés on arrival and nine matched wines.
$250 per guest